The Congress Experience
The issues confronting young people today are more complex than those facing earlier generations. This
congress aims to offer a reflective philosophical space, where those taking part can rehearse and investigate possible solutions to the key questions of our time with their peers. In so doing, skills and processes needed for considered decision making and action can be developed and practiced.
From 13 onwards with the onset of adolescence, young people begin to formulate some of the most important decisions of their lives. It is in the middle part of this stage of life that the Youth Congress is situated, giving young people between 17 and 21 the opportunity to experience on a daily basis, thoughtful reflection and action around the topics of social justice, sustainability and peace. We think this is significant as it at this point when young people begin to see themselves as part of the greater whole which is the totality of human experience. There is a growing awareness of being a human being on this earth which we all share, and in some way and to some extent are responsible for what happens.
Through the experiences of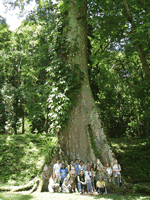 this congress the young people are confronted with a variety of contexts where the issues which form the main guiding ideas are present. For some from more comfortable backgrounds they may never have had to confront the realities of our present time before. We hope through the opportunity of these shared experiences and with exploration in the community of philosophical enquiry they can in some way be empowered to begin living a life where they make a positive contribution to the future of our shared world.