Philosophy for Change Resources
This page contains useful resources for teachers and other P4C practitioners.
Books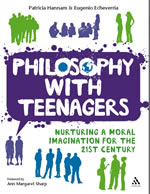 Echeverria, E & Hannam, P (2009) Philosophy with Teenagers: Nurturing a Moral Imagination for the 21st Century. Network Continuum Education.
This book has just been released at amazon.co.uk .Click here for more information and a table of contents.
'This work by Patricia Hannam and Eugenio Echeverria is one of the first attempts to show us how we might use the community of Philosophical Inquiry to go about a reconstruction of education that would render students the cognitive, social and emotional skills they need to live consciously and actively in a global world.' Ann Margaret Sharp, Montclair state college, USA.
Goleman, D. (2009) Ecological Intelligence: Knowing the Hidden Impacts of What We Buy: How Radical Transparency Transforms the Marketplace. Allen Lane.
Ecological Intelligence shows how the phenomenon of radical transparency - the availability of complete information about all aspects of a products history - is about to transform the power of consumers and the fate of business.  His B Emotional book Emotional intelligence  was on the New York Times best seller list fo over a year and a half. Available at amazon.co.uk More information about the author at: http://www.danielgoleman.info/
More publications available at: http://celafin.org/publicaciones.html (in Spanish).
Downloadable resources
Read about the experiences of participants of the International youth congress in the booklets found below: